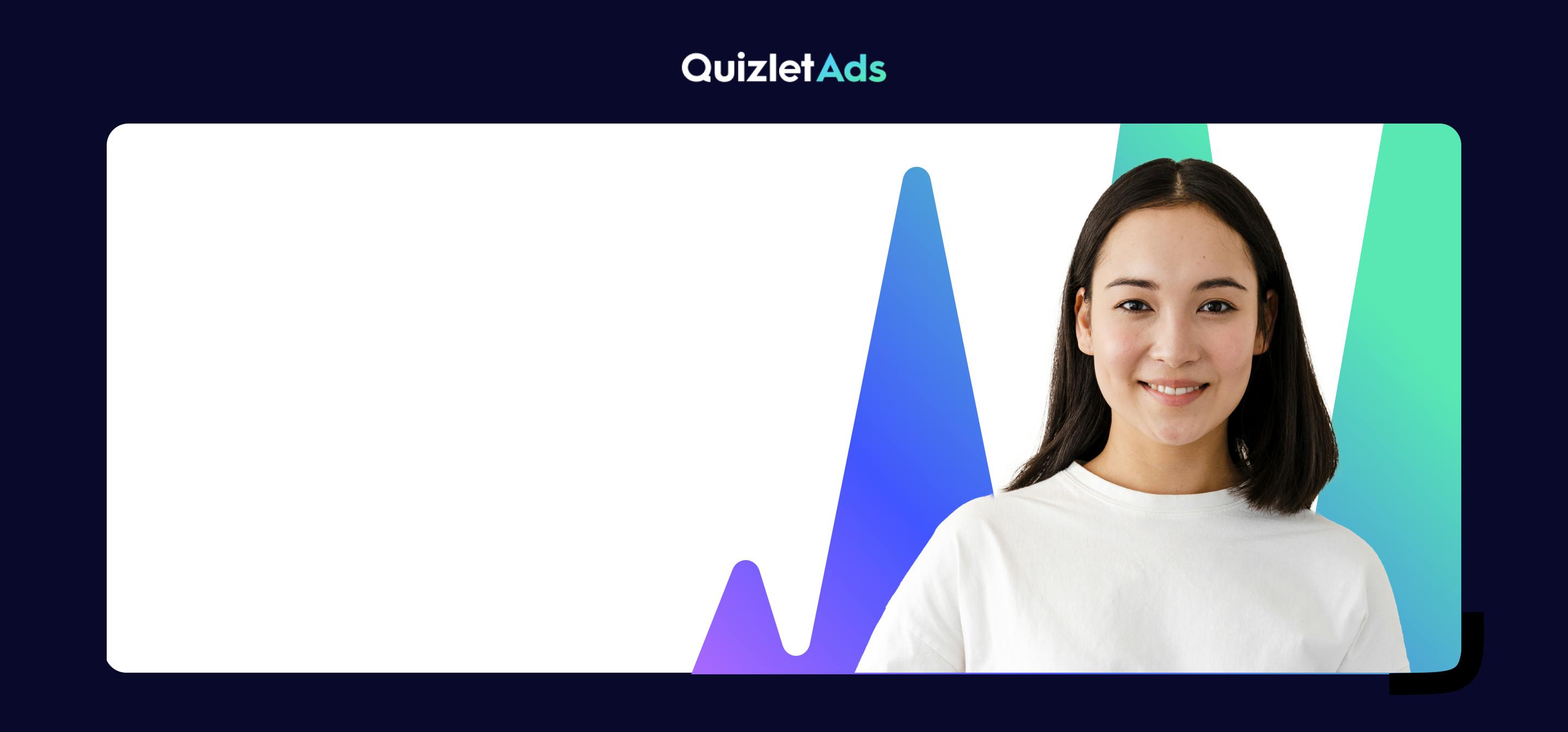 Reach Gen Z and Millennials where they are the most engaged.
Quizlet Ads is the premier digital advertising partner connecting brands with a diverse audience of 60 million monthly active users. Backed by content created by achievers for achievers, we give people and businesses the tools to reach their goals.
Who are Quizlet's achievers?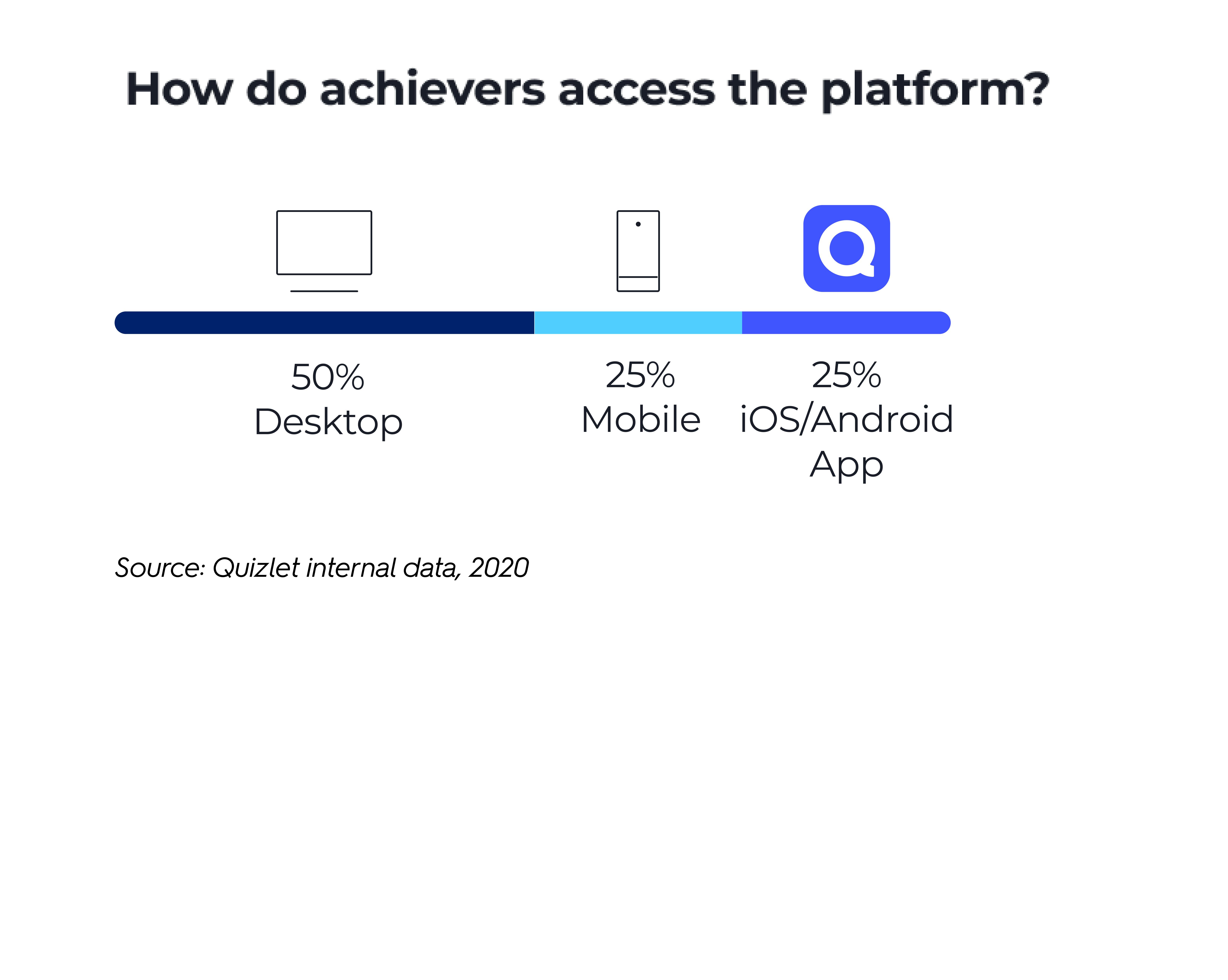 Quizlet has more than 60 million monthly active users, 90% of whom are Gen Z and Millennials.
Our users are diverse knowledge seekers both in areas of study and their personal backgrounds. They actively seek academic and personal improvements.
Quizlet's reach and scale
of the digital population is reached by Quizlet and users spend 2x as long on the platform compared to other sites, including social media. (Source: Comscore Media Metrix® Multi-Platform, Education, Persons 18-24, February 2022, U.S.)
achievers on average access Quizlet annually, and 56% of those users aged 18-24 identify as non-white. (Source: Comscore Media Metrix® Multi-Platform, Education, Persons 18-24, February 2022, U.S.)
in Comscore's Education Category for unique visitors. (Source: Comscore Media Metrix® Multi-Platform, Education, Persons 18-24, February 2022, U.S.)

Quizlet audience breakdown

Power a free learning tool for achievers worldwide.
Quizlet Ads features unique advertising opportunities that are integrated seamlessly into the platform, put the student first and don't interrupt the study experience.
Our audience is betting their future on Quizlet.
Your brand should too.

Partner with Quizlet Ads directly.
Unlock premium, custom ad opportunities that will get your brand noticed by our highly engaged audience.
Quizlet gives brands access to a hard-to-reach, unique younger audience where they are most engaged. We provide premium advertising products in a brand-safe environment, serving both our users and partners.
Demographic (geo/age)
Contextual (subject matter)
Life stages (off-to-college, in-college, graduating)
Professional groups (teachers, military, nurses, etc.)
Opportunities for direct, high impact programs with custom content
Video and programmatic opportunities for preferred and programmatic guaranteed deals
Flashcard Ads
Mimic the study experience with one or two sided Flashcard ads that allow for more brand messaging and native creative integration. Designed for maximum brand attention and driving traffic.
Study Break Video
Leverage this high-impact, highly viewable video ad unit to tell your brand's story in a leaned in, engaged environment.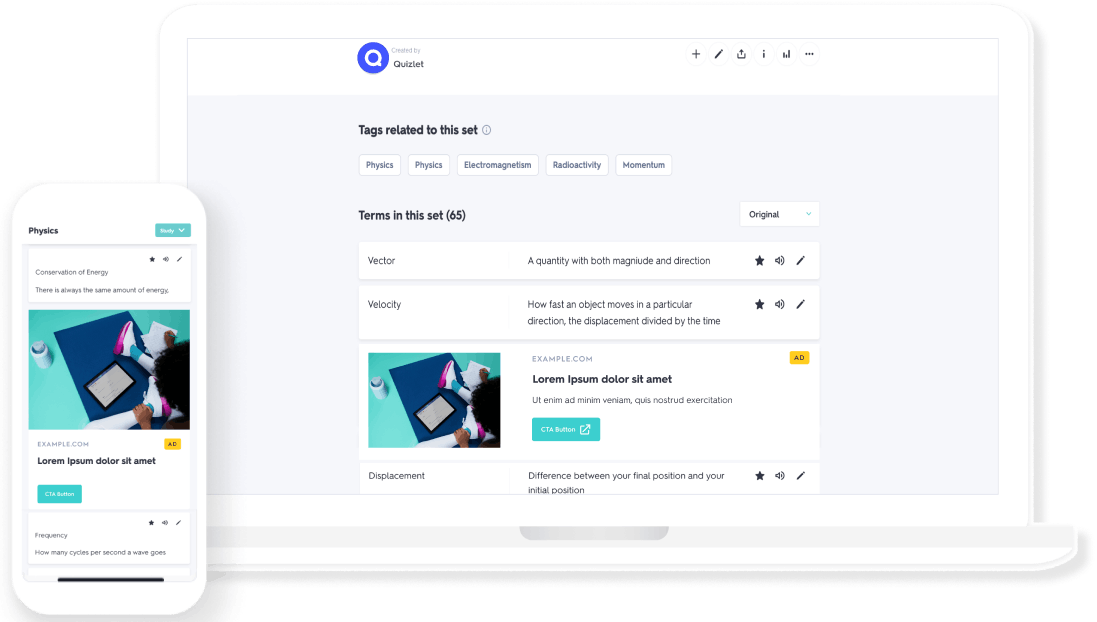 Native In-Line
Increase brand awareness and attention in a contextually relevant, native environment.
Video: Native or Outstream
Educate, inspire and tell a story with eye-catching video units to maximize brand awareness.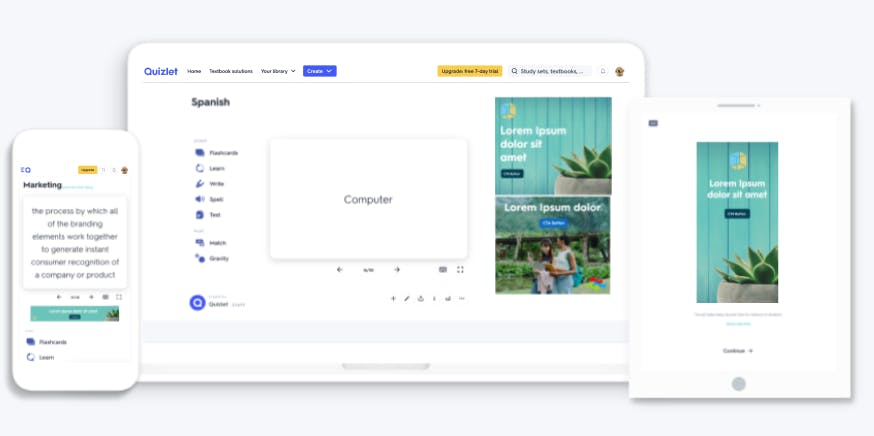 Display
Efficiently reach target audience with static banners on mobile and desktop.

Custom Sponsorship
Connect with your audience directly with Custom Branded Study Sets to deepen understanding and interaction with your brand. Study set and custom landing page created in partnership with our team.

Takeover Package
Reach every learner on Quizlet by owning all first and second view impressions to create mass awareness and buzz around priority moments for your brand.

Email Sponsorship
Integrate your own brand into Quizlet's emails or craft your own custom dedicated email messaging with 100% SOV.
Got a cool idea? Let us know! We love bringing new, custom experiences to our students.