How to Revise for GCSE English Literature: 7 Smart Tips
English literature gives you the opportunity to learn about some of the greatest pieces of work ever written. It might not seem like it when you're trudging through page after page of old-fashioned prose, but the beauty of words is there, whether it's in Pride and Prejudice, Macbeth, Animal Farm, or a popular Shakespeare number.
Learning how to revise English literature GCSE is a bit different to other subjects. This is because you'll be asked for your opinion in a short essay format rather than multiple choice questions or complicated formula calculations.
The key is to arm yourself with a deep knowledge and understanding of your chosen texts and memorised quotes so that you go into the exam room knowing exactly what to expect.
First Things First… Get Really Familiar With the Mark Scheme
The marking scheme for English literature GCSE depends on your school's exam board. Start by finding out which board your exams are under, then dig out the mark scheme and use that as a starting point for your revision.
Print it out, highlight the criteria and create a checklist of items you need to revise to make sure you tick off everything the exam board is looking for.
Prepare For Your Revision Sessions
Use Ready Made Study Guides (and Create Your Own)
There are loads of premade guides for each literature text published online. These are packed full of notes and annotations that help you make sense of the themes, plots and characters.
Then, once you've found a guide relevant to the text you're reading, scan through it and make a list of any ideas that are new to you. This is a great way to expand your thinking and come at the piece from a different perspective.
A word of warning: don't base all of your Eng lit revision around ready made study guides. They are good for sparking new ideas and providing food for thought, but they shouldn't be substitutes for the original texts. You need to understand the original texts as these are what you'll be tested on.
Create Character and Theme Sheets
Organisation is key to revising for your English literature GCSE.
It can feel pretty overwhelming thinking about memorising entire novels, which is why it's important to break things down - both for your memory and your sanity.
There are three key things you need to know about each text that you'll be tested on:
The context or themes
Important quotes that relate to the context or themes
Literary techniques (so you can provide an analysis)
Use these three points to create character and theme sheets. Start by identifying the key themes in a text and the main characters and putting aside an entire sheet for each one.
Then start adding to the sheets with:
A description of the character, theme or context
A selection of quotes that relate to the theme or character
A brief description or breakdown of each quote
Textual analysis for each quote that highlights specific literary techniques
These will form the basis of your revision as you start to store them in your memory ready to bring out on the day of your exam.
For example, you might get the question "how does Orwell use events in Animal Farm to explore ideas about revolution?". To answer this, you can think back to the notes you made about the theme of revolution, pick out relevant quotes and support those with textual analysis you did for each quote.
Now let's dive into the best revision tips for English Literature GCSE
1. Flashcards
Memorising quotes, themes and character names is a key part of revising for English literature GCSE. This is where flashcards can come in incredibly handy. Start by creating a set for each text, where you lay out the characters and themes, and then sprinkle them with relevant quotes.
If you don't want to make your own flashcards, use one of Quizlet's many premade English literature sets.
Find more GCSE English Literature revision resources in our GCSE Resource Centre.
2. Join a Discussion Group
Sitting with only your own thoughts about a text can get stale pretty quickly.
Pick things back up by joining or creating a literature discussion group. Team up with fellow classmates and meet up to discuss the texts and share ideas. Maybe they've found an interesting and relevant quote to go with one of the key themes, or maybe they have a different opinion about why a character said a specific quote.
As well as meeting in person, there are other ways you can virtually get the discussion going around your chosen literature texts: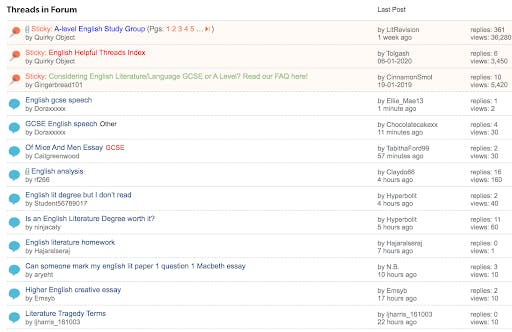 3. Test Your Analysis Skills
Analysing texts and quotes and identifying specific literary techniques is a key part of the English literature GCSE. This means you need to get your analysis on point, and the best way to do that is to practice, practice and practice some more.
Pick out quotes throughout the texts you're revising and give yourself 20 minutes to squeeze as much analysis out of it as possible. Start with the obvious and dig deeper into the obscure - you never know, it might spark ideas that you can use when analysing other quotes as well.
This technique can work particularly well in groups. Set a group time limit and see how much different analyses you can all come up with in that timeframe.
4. Shakespeare? No Fear!
While Shakespeare provides access to some of the most famous words ever written, it can be a nightmare to revise. All those complicated sentences! All those different characters! All those different quotes to memorise!
There are plenty of ways you can get your head around the likes of Romeo and Juliet and Macbeth, though.
As well as using flashcards to remember character names and key plot events, you can also tap into ready made resources, like No Fear Shakespeare. This is a translated guide that puts Shakespeare's plays into modern English so you can get a better grip on the storyline. Don't use these as gospel, though, as you'll still need to use quotes from the original texts.
There are four things you need to be confident in when it comes to your exam board's chosen Shakespeare text:
The plot
The characters
Key quotes
Key themes

5. Get Your Poetry on Point
You might have to analyse a piece of poetry in your literature exam. To make this as easy as possible, turn it into a process that you can go through step by step.
Start by reading the complete poem at least once (but twice or three times is better as you might catch something you missed on the first reading) and make sure you understand it.
Then start annotating it with your ideas and thoughts as well as opinions from others as well. This resource from Bradon English has detailed video analyses for each poem in the Edexcel exam, so start there if this is your school's exam board.
The channel also publishes helpful analyses for Shakespeare and other non-poetry texts too.
If this isn't your exam board, simply run a google search. There is plenty of valuable content out there that you can use in your analysis.
Once you've annotated the poem, read over your notes again and then practice answering an essay style question with and without your notes.
6. Learn How to Analyse Novels
Analysing novels is another beast entirely as they are often several times longer than a poem. Start by skim-reading the novel or collecting some synopses of the book and going through those with a fine tooth comb.
This is simply to remind yourself of the main ideas. Jot these down while you go through it.
Then, break your notes up into four areas (the same as you did for Shakespeare):
Plot
Characters
Key quotes
Key themes
Next, get your hands on a revision guide for the text (you can use one of the Notes tools we mentioned above) and scan through them for other perspectives you might not have considered.
From there you can create flashcards, character and theme sheets and host literary discussions with classmates.
7. Practice With Past Papers
English literature GCSE exams are set up in a different way to most other subjects. They usually consist of just two questions that require you write a descriptive essay around your opinions and thoughts.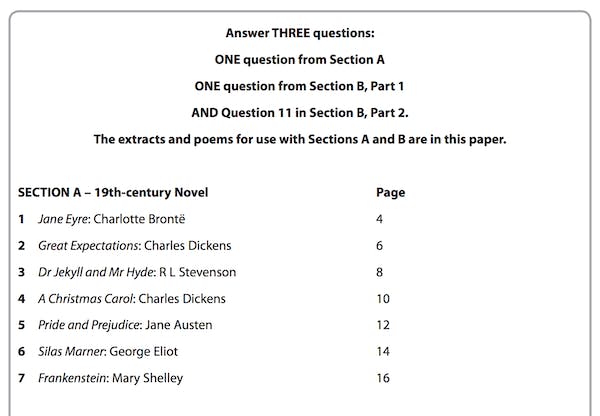 This means you're going to want to familiarise yourself with the kinds of questions that are commonly asked so there's no nasty surprises in your actual exam.
Past papers prepare you for the types of questions you'll be asked, and they give you the chance to practice your answers in an exam-style setting (just turn off your phone, time yourself and get rid of any distractions).
Start by going through past papers with your notes on hand so you can structure your answers. Then, when you feel more comfortable with the material and your knowledge of it, start answering them without your notes.
Cross-reference your answers with the marking scheme to see if you're missing any key areas and are hitting each criteria.
English Literature GCSE Revision Resources
1. Revision Guides and Downloads
English Biz is packed full of helpful revision guides, downloads and worksheets for analysing poems, plays and novels. There's also an entire guide to the plots, themes and key quotes from popular Shakespeare novels.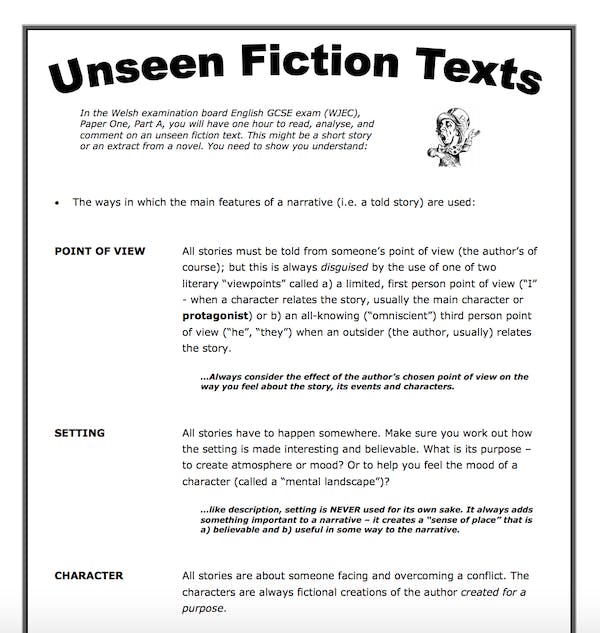 2. YouTube Videos
Staring at pages and pages of text every revision session isn't going to do your motivation levels any good. Instead, switch up your mediums to keep things exciting and inspiring.
There are a number of great YouTube channels dedicated to helping GCSE students analyse and understand texts and poems.
Start with Melanie Kendry, who publishes videos that break down texts using colour coding.
Check out YouTuber Nic Worgan, too. Her channel is completely literature-based, including analyses and quizzes for Jekyll and Hyde, An Inspector Calls, and various Shakespeare plays.
3. Checklists and Worksheets
If you need study guides, checklists and worksheets to motivate your English literature revision and give your sessions some kind of structure, TeachIt has everything you need.
There are sections dedicated to Shakespeare, 19th Century novels and poetry, as well as plenty of other revision resources packed full of tips and handy downloadables.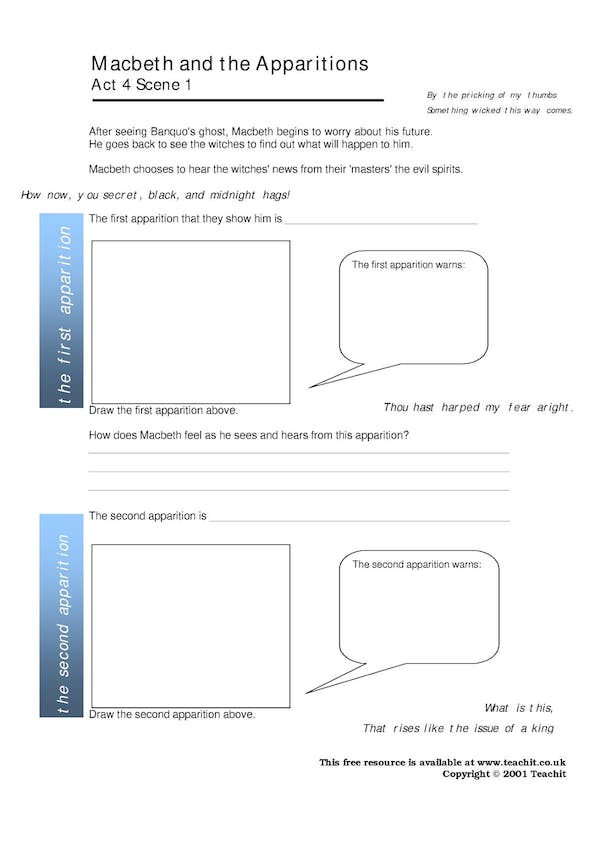 4. Podcasts
For auditory learners, having someone explain a text out loud can be far more effective than reading through endless pages of words. There are plenty of podcasts dedicated to analysing literature texts, understanding literary devices and helping students remember key quotes and themes.
Search your favourite podcast platform to find relevant podcasts and set up a playlist you can listen to while you're on the go.
Listening to texts while you're out and about can help you remember key quotes too. For example, when it comes to your exam and you're analysing Romeo and Juliet, it might jog your memory to remember a particular bus journey you were on while listening to the story.
The Key to Successful English Literature Revision is Practice
Don't fall foul of thinking that you need to remember every single thing that happens in a book. Instead, focus on learning the key events, themes and characters. This will provide you with the information you need to create a well structured analysis in your exam.
Keep your revision exciting by joining forces with a discussion group, creating and using flashcards, tapping into the wealth of resources available and mixing up the mediums you use to learn.
How Quizlet can help!
Past papers will help prepare you for exams, but continuously writing essays can be dull. There are plenty of fun ways to revise for your GCSE English Literature exam.
We have tons of online games and study methods designed to test your knowledge, challenge you to think more broadly, and fill in the gaps of your understanding. Check out the Quizlet GCSE English Literature page. There are tons of great study resources covering all of the pieces you'll be studying for your exam.
The Flashcards mode, for example, can help you cover the essential points from each literary work. One of the best things about using online tools to revise GCSE English Literature is that you get to find out what you don't know; helping you learn the answers to questions that are likely to appear on your exam paper. You can test yourself and aim to get a higher score each time.
As well as flashcards, there's a range of other ways in which you can test your knowledge; from multi-choice Q&As, spelling and grammar tests, online quizzes, card-matching games, and a wide variety of ways to learn, reinforce and revise.