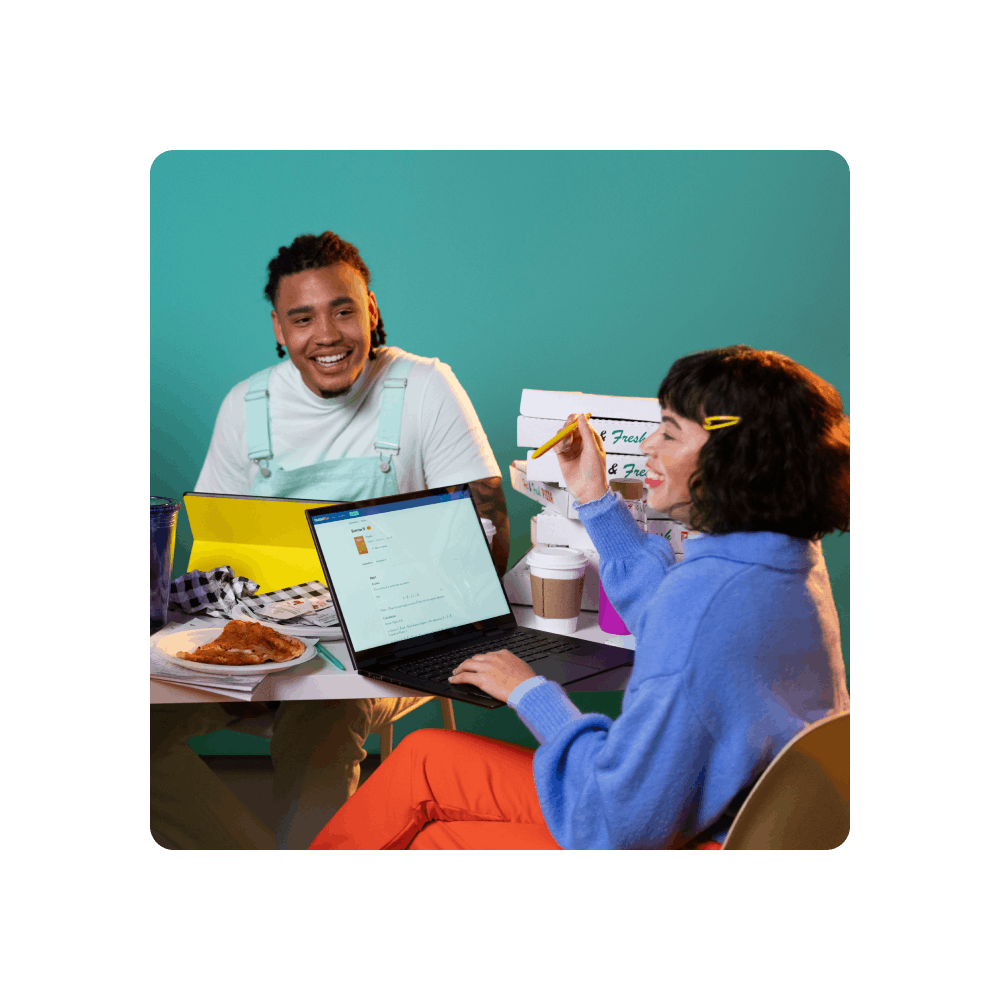 Making Student Collaboration Work
Understanding and guiding how students work together
At Quizlet, we get to talk to students everyday, because we're on the hunt for the latest information on how students learn. One point that comes up again and again is the importance of collaboration in learning. And we've been tracking how collaboration changed during the abrupt shift to remote learning and return to in-person instruction. By sharing what we've learned about student collaboration, we want to help students and educators have better conversations about academic integrity. We hope the examples below will help instructors think about which kinds of collaboration are worth checking in with their students to discuss their rules and expectations.
Video chat
While video chats to review for assessments were standard for high school and college students during the pandemic, students we've talked to say that they've really only stuck around when they're working in especially large groups, or when logistics are tricky. A large lecture class preparing together over Thanksgiving break before a final exam might use video chat to study. Smaller groups that know each other through in-person classes, on the other hand, usually default to in-person collaboration. 
In classes that are more likely to collaborate over video chat, the difference between digital collaboration before an assessment as opposed to during an assessment can create gray areas for some students. For instance, students may have to complete both take-home problem sets and in-person exams in a class. If they're used to collaborating in-person, there's a good chance that they'll get their problem sets done on their own at home but meet up to study together the day before an exam. On the other hand, suppose all of their collaboration happens instantly via video chat. Studying together before the semester's first exam might feel pretty similar to working through the next problem set together on video call, too – even when doing so could violate the class's policies. Video calls make instant collaboration nearly frictionless, and that ease of communication can make it easy to continue collaborating at the wrong times. 
Shared study materials
One form of collaboration that was around before the pandemic and has remained relevant concerns students who build their study materials together. In the era of Google Docs and online education platforms, it's easier than ever for students to let their classmates learn from the study materials they've prepared for themselves. Often, that's great! One of our favorite repeat stories that loyal Quizlet users share with us is that their peers label them as the class's "Quizlet person" – the dependable classmate who you can count on to turn the vocabulary on any upcoming quiz into a study set for the whole class to practice. We're proud of those students for helping their classmates learn.
But sharing flashcard sets, notes, and study guides isn't appropriate in every class or on every assessment. One student we spoke with had a professor who said that using their computers to view notes, textbooks, and any self-created study materials was allowed during an electronic test, but web search was prohibited. Classmates built a Google Docs study guide together before the test that linked to web pages with information about the topics the class had covered. The student wasn't sure whether that approach was an acceptable study guide or an unacceptable use of the web. It's a good question for instructors to consider for their own classes. And it's a great conversation to have with students so that everyone's expectations for what's OK and what isn't are clear.
Class group chats
One trend that has stuck through the pandemic is the increased popularity of class-wide group chats, and they've remained as big as ever amid the return to in-person school. These group chats can be a great way for students to support one another at odd hours and for small questions: instructors may not see an 11:30 PM email asking where to find a link to the reading, but a night owl classmate might be able to help instead. At the same time, class-wide group messages, which usually happen without any instructor supervision, raise concerns about academic integrity. Stories of students who use group chats to collaborate illegitimately on individual assignments were reported throughout the pandemic, and they've continued since the transition back to in-person instruction.
Trying to root out the existence of these group chats would be as difficult as trying to get students to stop talking to one another altogether. And, like in the example of a student with a simple question at an off-hour, they can serve a legitimate purpose. But that doesn't make educators powerless in the face of this potentially risky medium for collaboration. 
One lesson we've learned in our conversations with students is that, for the vast majority, doing something that their instructor has explicitly prohibited is recognized as off limits. It's the areas where an instructor hasn't provided explicit guidance that students have an easier time rationalizing shortcuts. Our takeaway is that candid conversations can help to reduce gray areas. As an educator, telling students that you know these kinds of group chats or shared materials exist might be a good place to start. When you do, you have the chance to spell out when and how not to use them. It also lets you steer them towards more supervised ways of working with one another, like an online class forum that lets students ask each other questions that you can see, too.
Student collaboration is a powerful tool. Students recognize its power, and they frequently seek each other out for help. When instructors guide collaboration with clear expectations, it can turn students into leaders that help each other learn honestly.