The Jed Foundation x Quizlet

Examiety Resource Guide
Let's be honest, who hasn't woken up in a cold sweat in the middle of the night after a nightmare that you showed up for a test you hadn't studied for? Or avoided studying altogether, up until the night before? Being stressed out by school is normal — you have a lot to juggle. So, we've given a name to the feeling of anxiety experienced around studying for and taking tests and are here to provide resources for dealing with it in a healthy way.
Created in collaboration with The Jed Foundation (JED), Quizlet is coining the term Examiety (a.k.a exam + anxiety) and bringing students the first-ever Examiety Resource Guide. 
This guide is designed to offer healthy tools on how to cope with Examiety, the relatable combination of physical and emotional reactions that can creep up at any point during the school year, interfere with our ability to perform well on tests, and negatively impact our mental health.
With all that you have going on, it is so important to have resources that help you manage everyday life and prioritize your health and emotional well-being. Your mental health matters most of all. 
Why did we coin the term?
First off, what even is anxiety? JED explains anxiety as, "a feeling of intense worry or uneasiness that we experience when we're facing something stressful, often a situation where we don't know the outcome."
We talked to our Quizlet community to find out how they were feeling about the pressure around tests and exams. In a survey of more than 1,000 high school and college-aged students, we found that 86% of respondents have experienced test anxiety, with 76% saying they have experienced it within the last six months. 
That's pretty much all students.
That's why Quizlet, a learning platform used monthly by 60 million active learners worldwide, worked with The Jed Foundation, a non-profit that protects emotional health and prevents suicide for our nation's teens and young adults, to develop an easy-to-use, expert resource guide to manage stress and prioritize your mental health. 
So, what is Examiety?*
Examiety is the manifestation of feelings of stress, anxiety or uneasiness felt by students when it comes to test-taking or academic stress. One way to combat examiety is to prepare for tests and exams. But, even more powerful, is acknowledging, identifying and managing your feelings and the things that trigger it. 
*Disclosure: Examiety is used to describe an often relatable feeling of apprehension and stress that students may feel during the school year. Examiety is not a medical term and is in no way meant to diagnose any forms of anxiety.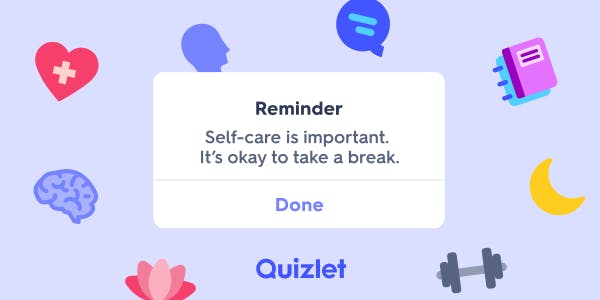 Check in: It happens to the best of us 
Let's check in! No grades required. Take this short quiz to learn ways to cope with school-related stress and anxiety. 
I feel anxious about exams during the school year:
a. Yes
b. No


Fill in the blank: When I have an upcoming exam, I usually _______________ :
a. Feel nauseous
b. Become restless
c. Try to avoid thinking about it at all costs.
d. Cry
e. Feel pretty confident 


You find yourself doing everything other than studying or looking at your study materials:
a. Yes
b. No


I've had an exam-related dream or nightmare:
a. Yes
b. No


I find myself worried or anxious about exams when I am participating in extracurricular activities (athletic practice, performing arts rehearsal, etc.):
a. Yes
b. No
c. Sometimes


I need help finding ways to manage school-related stress: 
a. Yes 
b. No
c. Maybe so?


If you answered yes to questions 1, 3, 4 or 5, you might also have experienced Examiety. But you're not alone. One-third of students surveyed said they experience test anxiety weekly, and more than a quarter experience it daily. 
The resources in this guide will provide you with insight on how to identify and understand your Examiety triggers, identify feelings of stress, learn and understand your best individual ways to cope with examiety and work through your feelings to create a life that feels more balanced to you. 
*Disclosure: The above questions are meant to be a lighthearted quiz, not a formal mental health screener*
Now what? 
It's totally normal to feel overwhelmed sometimes. We all do. What is most important is how we respond when we are feeling that way. Beyond being prepared, the best way to help alleviate symptoms of Examiety is to find ways that work for you as an individual to lower your stress. Managing Examiety is not a "one size fits all" approach. 
A first step is figuring out your triggers — the things that cause your anxiety to spike. Next is doing a little experimenting to find out what coping strategies work for you. Many students find listening to relaxing music helpful, like lofi stations, others might take a #HotGirl (or guy!) Walk to clear their minds and some enjoy moving their body in whatever fun way their physical abilities allow — TikTok dance party, anyone? 
Try out some of these things, or some other favorite activities when you are feeling stressed and see which ones work best to help you feel calmer and connected to the present moment. 
Based on our survey data of 1,000+ respondents, here's what students shared as some of the ways they relieve Examiety: 

Exercise
Go outside / get fresh air
Meditate (see below for an easy way to try) 
Take a nap! 45% of respondents in our survey say they listen to music or rest before a big test 
Spend time with friends and/or family 
Listen to music (check out this blog for the science behind music)
Watch TV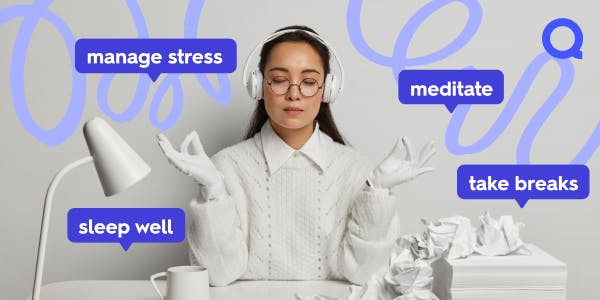 How do you even meditate?
For those who struggle with meditation, remember it can be anything you make it! Whether it is a chance to sit in solitude and clear your mind or reflecting on the day you've had while you sit in a cafe, meditation is all about finding a way to connect to the present moment instead of worrying about what might happen in the future or obsessing over something that happened in the past.
Get the help you deserve
In this section, we're sharing tools to manage and combat that pesky feeling of Examiety, from study tips to finding a therapist.  
At Quizlet, we have tons of resources to support your studying including: 
A therapist can be really helpful to manage anxiety and all sorts of challenges — big and small.
Never been to therapy? That's okay! Therapy — sometimes called psychotherapy, talk therapy, or counseling — is meeting with a trained professional to take care of your mental and emotional health. A therapist or counselor can provide advice about — or insights into — feelings and experiences that are confusing or causing stress, and can help us figure out treatment approaches for addressing persistent mental health conditions.
There are many different types of therapy, including cognitive behavioral therapy, psychotherapy and even art and music therapy. It's always good to have a friend or family member to talk to but reaching out to a licensed therapist with a vested interest in your wellbeing can provide additional, meaningful support for managing your mental health. 
Find out more about how therapy works and if it might work for you
Finding the right therapist is a process. Below are steps to finding the right mental health expert for you: 
1. Ask around. A good starting place for getting names of therapists is to talk to your health care provider, friends, trusted adults or a school counselor who might have worked with or know the reputation of professionals in your area or at your school. 


2. Look at their credentials. It's not very important what schools a counselor or therapist went to, but it is important to confirm that they have attended legitimate and certified training programs, meet standards of training for their profession, and are qualified to help you with an emotional condition. Licensed professionals who provide counseling include:

Psychiatrists (MD)
Psychologists (PhD, PsyD)
Psychiatric nurse practitioners (MSN, PMHNP-BC)
Licensed clinical social workers (MSW, LCSW)  


3. Think about seeing a therapist who shares your cultural background. There can be a lot of benefits to working with a therapist who shares your cultural background or has been trained in culturally competent therapy, which means they will not only respect your identity and cultural background but will bring it into their work with you, whether or not they have a similar background. 


4. Consider your finances. Before you contact a therapist, it would be helpful to confirm if they accept your insurance. If they accept your insurance, you will probably be expected to make a co-pay contribution (the part you pay above what the insurance pays) for the cost of therapy. 


5. Consider the setting. Counseling and therapy can take place in a private office, hospital, clinic or community center. A good setting is one that is in a convenient location (close to you, or close to transportation) and one that makes you feel safe and comfortable.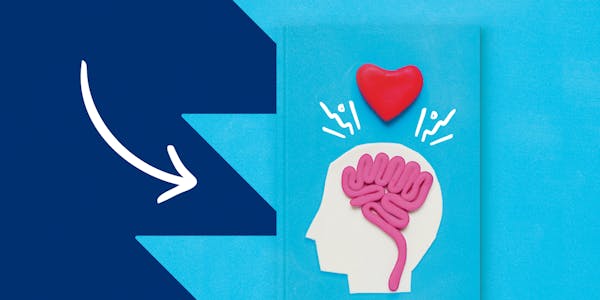 More Resources
We hope this was a helpful place for you to check in with how you're feeling and get connected to support. Remember, you're not alone in experiencing Examiety. If you're looking for additional support and information, visit these sites: 
*JED's content is for informational purposes only. It is not intended to be a substitute for or to be relied upon as medical advice*