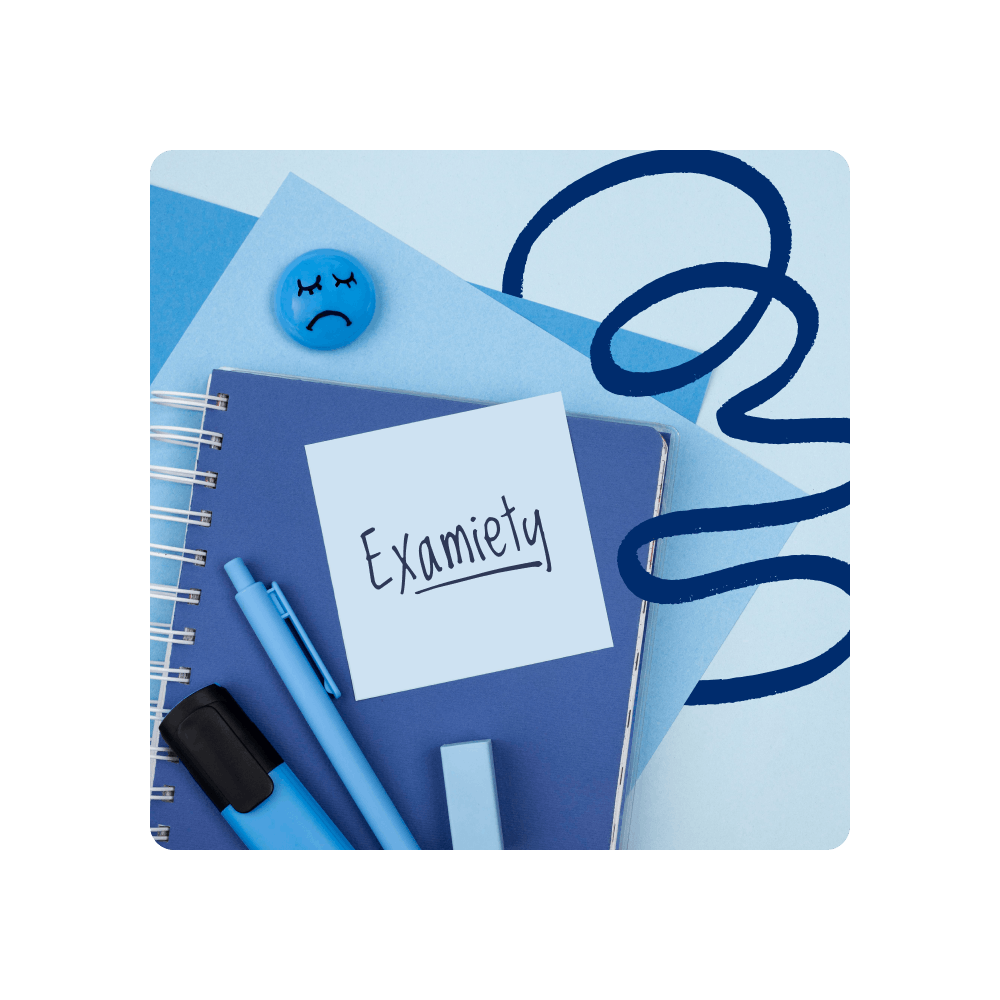 Mental Recess: The missing piece of the mental health convo
Every year there seems to be more of a push to "start the conversation" around mental health. And we're all for it. Breaking down stigmas and barriers to access is a core belief Quizlet has, in not only education but also mental health. 
But what about those students who are asking for help, yet aren't receiving it? Or those left out of the conversation? We've noticed a much-needed shift in conversation around mental health but there is one group often left out of the discussion – college students. 
It seems TV and news stories brush over college students, maybe because they're considered "adults," or their parents are less involved in their lives.
In reality, one in four Gen Z respondents are feeling more emotionally distressed, almost double the levels reported by millennial and Gen X respondents, and more than triple the levels reported by baby boomer respondents (source: McKinsey). And sadly, suicide is the third leading cause of death for 15-24 year-olds (source: govstu.edu). 
College students are not okay and it's time to acknowledge it.  
Some may think it's a bit ironic for an education platform to be talking about the need for this conversation, when we know school is a huge part of the cause. The pressures of education and success are high. In fact, 96% of Gen Z students feel that their mental health challenges and/or stressors impact the quality of their schoolwork – more than half say this is the case most of the time or always (54%).* 
However, that's exactly why we think it's so important. As a company striving to make learning more accessible, less intimidating and more effective, we also have the same opportunity to tackle its challenges. 
What are students saying? 
Let's first take a quick look at what college students are experiencing.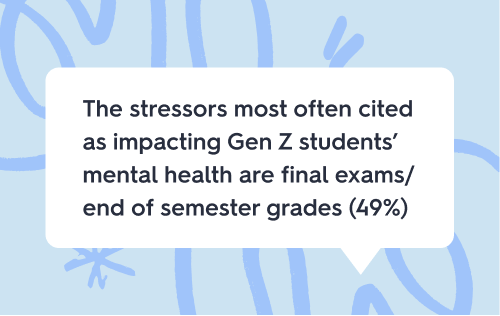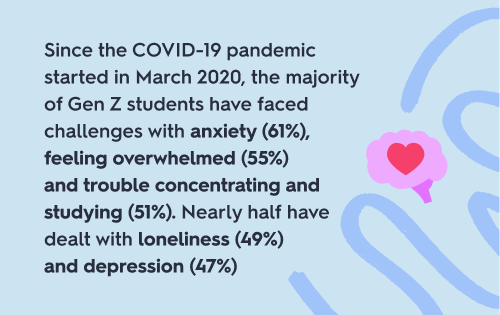 The balancing act
When speaking with past Quizlet ambassadors and college student, Alexandra Berardelli, she shared that she spends about six hours a day, six days a week, focusing on her classes. "This includes preparing for class and doing homework, peak exam, or finals season would be more. In addition, I have a part-time job in the evenings four days a week, and I belong to a few weekly clubs."
That's… a lot. It's no surprise that it can be difficult to prioritize your well-being when you are tackling mountains of reading, working to support yourself, maintaining a social life, and trying to further your career with extracurricular activities. 
And schoolwork isn't just it. Alexandra also shared about the unspoken pressures that she and her peers face: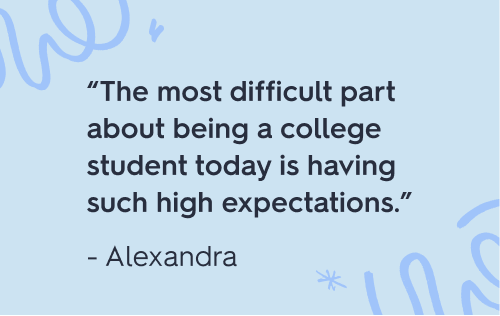 "I strongly feel that while the coursework is challenging in itself, it's not the hardest thing. The most difficult part about being a college student today is having such high expectations. These expectations are from all places, family, friends, and most importantly, society. Why should we be stressed out to the point of pain because we don't know what we want to do with our degree if we don't meet the insane prerequisites or have a PhD right out of college? Yes, I know it can't happen that fast, but instead of invoking this anxiety with looming expectations, why don't we understand that our experiences studying what we want when we want are just as valuable?"
The future of mental health 
What's next? We feel as though companies like Quizlet that serve college students have not only a chance, but an obligation, to share the voices and stories of how mental health is affecting our community. 
In our mental recess series, we'll continue to share not only data to support what students are experiencing, but also resources and tools to navigate its challenges. 
Keep an eye out for our next piece, where we'll dive into resources and support, as well as talk about why students are hesitant to seek it out. 
Our Examiety Resource Guide is a great place to start if you're looking for what other students are doing to relieve stress.  We also have tons of resources to support your studying including: 
*Survey conducted to over 1K students by Quizlet.
Disclaimer: This content is for informational purposes only. It is not intended to be a substitute for or to be relied upon as medical advice.