Write the Lewis structure for each molecule. a. NF3​ b. HBr c. SBr2​, d CCl4​
To write Lewis structure, let's get introduced with the following instructions:
Firstly, we need to put atoms in the correct positions, because the skeletal structure must be correct. The less electronegative elements are placed in the central position (expect hydrogens), and the more electronegative elements are placed at the ends of a structure.
The number of electrons in the Lewis structure is determined by summing the valence electrons of each atom.

Lewis structures must fulfill the octet rule. It means that each atom must have eight electrons in a valence shell.

First, put the two electrons between every two atoms (bonding electrons), and then the rest of the electrons distribute among the atoms to form octets.
The dots represent the valence electrons.
a. NF3​. Since nitrogen is in the fifth column of the periodic table, each nitrogen atom would need five valence electrons. Since fluorine is in the seventh column, it would require seven valence electrons. Furthermore, since nitrogen and fluorine want to be like the noble gases in their lines, the octet rule would be needed.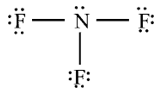 Create a free account to view solutions
Create a free account to view solutions
Recommended textbook solutions