Crush your next finance certification exam
Get ready to ace the CPA, CFA, SIE, FINRA, CIMA, PMO exams with premium study guides. Whether you're mastering the content for the first time or looking for that last minute refresher, Quizlet will give you exam-day confidence.
NEW!
SIE Prep Pack
Get content created by Knopman Marks, powered by a premium study experience on Quizlet. With hundreds of practice questions, flashcards, and more, you'll be ready to crush the SIE exam.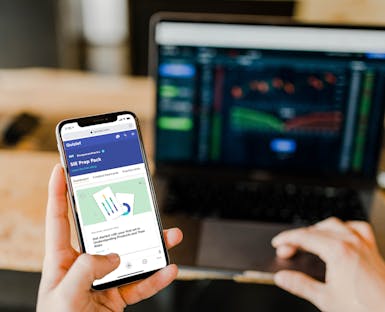 Banish study anxiety with bite-sized CPA study guides
The CPA requires tons of review and focus. That's why Surgent created premium study guides on Quizlet to help you master the tough stuff so you can pass on the first try. Refresh all the most important concepts while you're on the go with our mobile app. Master it for good with Learn mode.
Top Premium Series 7 Exam study guides designed by experts
Our interactive flashcards for the Series 7 will help you drill and practice on the most heavily tested topics on the exam. Broken into 8 sets, you will have ample content to build your retention on topics ranging from Options to Investment Companies and Annuities.
Get ready to ace your SIE Exam with premium study guides
The new Securities Industry Essentials (SIE) Exam is the first step to a career in financial services. These study guides will help you master the topics tested on the new SIE Exam, such as Customer Accounts, Capital Markets, Industry Rules and Understanding Products and Their Risks.
COMING SOON: More finance certification study content. Tell us what you're prepping for at the top of the page and we'll let you know when it becomes available.
What finance exam are you studying for?
Your input will help us publish the best premium content to serve your finance certification needs.